Updates
Jesse Quick
Biography
Friends
Foes
FAQ
Comics
News
Interviews
Upcoming
Comic Index
Pictures
Chatroom
Links
Quickstart Enterprises
Awards
Letters
Banners
Copyrights
Webrings
Credits
Guestbook
E-Mail


This web site, its operators, and any content contained on this site relating to Jesse Quick are not authorized by DC Comics.


This site is not sponsored, approved or authorized by D.C. Comics. The opinions of this site are not necessarily those of DC Comics and this site is not an authoratative voice of the views of Jesse Quick and characters and situations as written by DC Comics. This site serves as a non-profit scholarly work which reviews, promotes, and documents the elements of "Jesse Quick" in comic books and media during the 20th century. All ideas in this site are expressed as a continuation of thought covering the pop culture associated with Jesse Quick. These thoughts are not necessarily the idea of DC Comics. Some illustrations and words are the creation of others that have appeared in other publications. Their inclusion in this site is not intended as an infringement of their copyright in any way, but rather is done in the interest of documenting and reviewing pieces of pop culture "comic book" history.


JESSE QUICK, FLASH, IMPULSE, MAX MERCURY, LIBERTY BELLE, JOHNNY QUICK, JSA, TITANS, ALL STAR SQUADRON, KINGDOM COME, and other related properties and images are ©1941-1999 by D.C. Comics


Below are all the nasty little badguys that have made up Jesse's Rogues Gallery to date...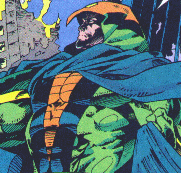 Cult leader...international terrorist with designs on global domination. He has seemingly limitless resources and armaments, an army of followers, and became Jesse's first major enemy when he set his sights on Keystone City and puts his "Project Morpheus" into effect, a plan that would both rid him of his most hated enemy, the Flash, and give him total domination over the globe, annihilating all its defenses in an earthquake of unchronicled proportions, providing mass quantities of geothermal energy for him to supply his troops world-wide.
Ultimately, though his plans failed, he remains at large, able to pounce back into Jesse's life at any moment.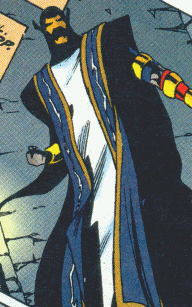 Savitar began as a cold-war patriot of an unspecified third world nation. While testing an experimental supersonic airplane, he pushed it beyond its every limit, at that moment he was the fastest man alive. And then his plane was struck by lightning. He awoke later, thousands of miles away, confused, and completely unharmed. He was soon set upon by foreign soldiers, who began firing at him. Infused with energy from the speedforce, he cut them all down easily. It was at this moment that he decided the gods had gifted him with this great power, and speed became his religion.

He travelled the globe over, studying everything he possibly could about speed, the nature of motion, etc. everything that could fuel his power, and all the while he kept pushing himself faster and faster, convinced that with enough speed he could enter the speedforce and learn all its secrets. Savitar soon turned to Johnny Quick for answers, but quickly dissatisfied with Johnny's replies he tried to kill him in order to gain Johnny's speed, but was thwarted by Max mercury and Johnny Quick. Savitar eventually sped along the barrier of the speedforce as Max chased him, until he leaped through time.

Arriving in the modern era, Savitar re-established his cult of ninja followers, and devised a means of stealing the speed powers from others and bestowing them on whomever he chose, and so he stole the power of all earth's speedsters (save the Flash), until Jesse was able to destroy his power-syphoning machine. During the ensuing battle, both Johnny Quick and Savitar died and became part of the speedforce.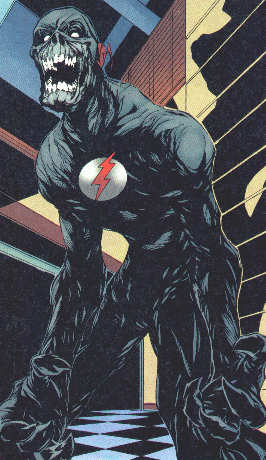 Called "slow lightning" by the American Indians, it was later named "Black Flash" by Jay Garrick. The Black Flash is a demon, creature, monster, specter, whatever...the embodiment of death itself, and it comes to collect speedsters and bring them to their final destinations in the speedforce. When it enters this dimension it corrupts time and everything not connected in some way to the speedforce is slowed to a stop. This time it had come for Wally. Though ultimately defeated by the Flash, after help from Jesse, Max and Bart, it's unknown whether the Black Flash can or ever will be back, for Wally, or perhaps any other speedster.

(personal note: I believe that since the Black Flash is the embodiment of death for speedforce users, and that since Wally sent it crashing through the end of time and out of "our" plane of existence, all of the speedsters, including Jesse, should now be completely immortal. So odds are it wasn't actually the true embodiment of death)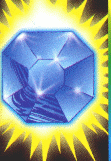 Gee, it turns out Barry Allen had a twin he didn't know about. Sold to an abusive family, Malcolm Thawne discovered his true heritage when he grew older. Afraid he'd be rejected, he never approached the Allen's and came to believe the Allen's, and Barry especially, were the cause of every bad deal to occur in his life. So, with the help of a neat-o magical gem he acquired, he became Cobalt Blue and hatched a plan to kill a couple Flashes between now and the year 3000, and end the great ole killing spree by killing the already dead Barry Allen in the 30th century before he died. Fun, huh? Well, he lost, but since the Thawne name lives on a thousand years, and all but one of them become Cobalt Blue, odds are we'll see more Flash-hating, blue fire wielders in the years to come. Yippe!


Led by the mysterious "Mother," we have yet another nutso group bent on terrorism and world domination, as well as harboring a continued hatred for the Titans since long before the team's current days. The creme de la creme of arms brokers and manufactureres, the H.I.V.E. is always good for an exciting little fight here and there.